Welcome to our web site! We have a lot of new and exciting things going on here at the Boys & Girls Club of Hobbs…and we want you to know all about us.
The Boys & Girls Club of Hobbs has been in operation since 1964! WOW! We are celebrating over 50 years of helping kids!
With the establishment of the Teen Center by the City of Hobbs, our Board of Directors voted that the Boys & Girls Club of Hobbs should focus on children ages 6-12. We currently have a membership of over 2,500 kids!
Browse our site…we have a bunch of information about us, our kids, and neat things for kids to do on the web!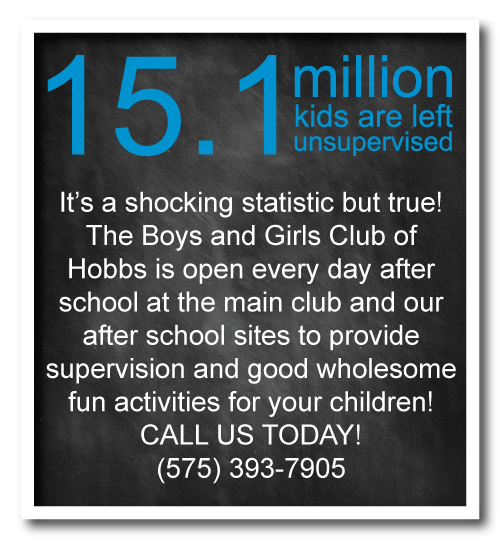 Boys and Girls Club of Hobbs
We have been in our present location since 1969. The building was formerly a Safeway grocery store. It was renovated in 1968 to house what was known then as the Boys Club of Hobbs. In 1988 an addition was added to accommodate girls and thus our current name of Boys & Girls Club of Hobbs came into being! We added another gym in 1993 and we now have approximately 26,000 square feet of space available to youth. On June 12th, 2015 our new location opened. We can not express how excited we are about all the great adventures the Boys and Girls are experiencing in our NEW Club.
To see a full video of the NEW Club design please CLICK HERE
Annual Car Raffle